Request a quote or
information

Interpreting
(simultaneous, consecutive)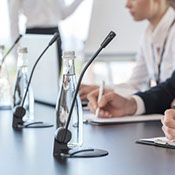 An interpreter with a deep knowledge of cultural differences and commercial habits as well as excellent communication skills is essential for achieving success in conferences and trade negotiations.
We offer specialized interpreters for specific fields (technical, economics, industrial, culture, sports, etc.)
Whether you require escort interpreting, consecutive interpreting or simultaneous interpreting, we will respond to all your requests.
Languages handled: Japanese⇔French⇔English
Basic rates for (consecutive) interpreting *excluding tax
Seminars, trade negotiations, conferences
40,000 – 60,000 yen 60,000 – 80,000 yen
Escort interpreting, inspections
30,000 – 40,000 yen 40,000 – 50,000 yen
Highly specialized fields and simultaneous interpreting are subject to special rates.
Please inform us if an interview with the interpreter is required beforehand.
Please provide us with the documents necessary to prepare the assignment in advance.
In principle, transport costs, accommodation expenses and meal costs of the interpreter shall be provided at the customer's expense.
Any cancellation on the day before the assignment or on the day of the assignment shall not give rise to any reimbursement.
Please contact us for any inquiries or questions regarding our services.