Request a quote or
information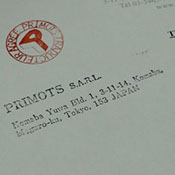 Primots is a translation company approved by the Embassy of
France in Japan.
Study visit abroad, transfer abroad, etc.: We handle all of the translations necessary to obtain
a visa.
In addition to French, we can also handle translations to and from multiple languages.
Please contact us for further information.
Civil status record (or extract of civil status record), leaving certificate, certification of schooling (employment), etc.
5,400 yen (tax included) / page
Any other documents such as letter of motivation, resume, trade register, company status, etc.
At the normal rate, the lead time for the translation of certificates (record or extract of civil status record, residence certificate, leaving certificate, etc.) is 3 – 4 business days.
We are ready to help you, we will try to meet your translation needs as quickly as possible.
For further information about the work flow, from inquiry until delivery, please refer to our page on translation.
Inquiries, quotation requests
Office hours: Monday to Friday: 9:30 am - 6:30 pm / Saturday & Sunday: 10:00 am - 6:30 pm
*Closed on national holidays
Inquiries that are sent by email will be processed as soon as possible during office hours.
Please specify your full name, address, phone number, as well as the number of pages that you wish for us to translate.
In order for us to provide a quotation, please send a copy of the documents to be translated by email, FAX or regular mail.
For the translation of official documents into French, the original document (or a certified copy made by us) is required. Please mail it to us or bring it directly to our office.
PRIMOTS
Translation manager
3-11-14 (4F), Komaba, Meguro-ku, Tokyo 153-0041 Japan
Phone: 03-3465-7707
Fax: 03-3465-7470
Email: information@primots.com
Bank details (the customer shall bear all banking costs):
Name: PRIMOTS Bank: SUMITOMO MITSUI BANKING CORPORATION Branch: HAMAMATSUCHO
Account number: 3187887 SWIFT Code: SMBC JP JT (only for transfers from abroad)